Flood 2019
If you have been affected by the recent flooding, this page has some helpful links and contacts.
We are producing an e-newsletter to keep those people affected by flooding up to date with the latest advice and support. You can sign up here.
Introducing Lauren, our Flood Recovery Link Worker.
We know that many residents in and around Wainfleet have been affected as a result of the recent flood and may not be able to return to live in their homes for some time. Others will be preparing to return home but will have a number of matters to deal with to resettle into their homes. Of those affected by the floods, some households may want to access additional support and we know that for all of those affected; keeping you up to date with information relevant to your situation is important .
Lauren; our Flood Recovery Link Worker is a key member of our Flood Recovery Coordination Team. Lauren provides a direct link between services / support / partner organisations and residents affected, including those who are currently unable to return to their homes as a result of the flood.
Lauren is a designated point of contact to ensure that residents affected by the flooding:
Are supported and have access to support and services they need including council services, support services and wider health and wellbeing services
Have access to up to date information
Able to access advocacy and advice as needed
Are able to access advice and information on sources of funding, help and support
Lauren can be contacted on 01507 601111 or by email at flood.recovery@e-lindsey.gov.uk.
This role does not replace or duplicate existing provision. Instead, it complements it through a joined up, multi-disciplinary approach to ensure there is sufficient capacity and support for those affected by the flooding to access the support, information and services they need to enable recovery from the flooding.
---
Housing support
If your property has been flooded, and you are able to, please arrange to stay with family and friends and/or contact your insurance company if you are in need temporary accommodation.
If you are in private rented accommodation, we suggest you make contact with your landlord as their insurers may be able to provide temporary accommodation.
If none of these options are available to you, please contact our Housing Team on 01507 601111.
Housing and Homelessness Advice
---
What to do after a flood?
The Environment Agency and Public Health England have some useful information about what to do after a flood, including advice on how to clean up your home safely: What to do after a flood
We have also produced a flyer with some helpful advice and support for residents returning to their homes following the flooding, it will be available from Coronation Hall, distributed directly to those whose houses have flooded and can be downloaded

here [45.9KB].
---
---
Community Information Point - Coronation Hall, Wainfleet
We continue to have a presence at Coronation Hall in Wainfleet, offering support and advice for everyone affected by the flooding in and around Wainfleet.
Drop-in sessions are now being run from Coronation Hall and various agencies will be on hand to provide information and support to affected residents.

The confirmed schedule for these sessions for the next six weeks is now available [1.24MB].
Sessions at the Hall are taking place in the side room, which can be accessed via Barkham Street.
Coronation Hall - Opening Times
Thursday - 10am to 6pm
Friday - 10am to 4pm
Saturday - 10am to 4pm
If you need to speak to us on other days, please contact the Flood Link Recovery Worker on 01507 601111 or email flood.recovery@e-lindsey.gov.uk
---
Support and advice for businesses
We have put together some details of support and advice that you might find useful following the recent flooding, this information can be accessed here.
---
Contact numbers
Our Call Centre is available between 9am and 5pm, Monday to Friday on 01507 601111.
Outside of these times calls will be diverted to our Out of Hours service.
---
Flood damaged items & waste collection
If you have been flooded, and have bulky items that you need removing, please ring 01507 601111, with details of those items you need us to collect.
---
Scrap Metal Collection
If scrap metal is being collected from you, the person collecting it is required to hold a Collector's Licence issued by us and a Waste Carrier's Licence that is issued by the Environment Agency.
You can check the Public Register of Scrap Metal Dealers here.
Any person who carries out business as a Scrap Metal Dealer without a licence may be liable on conviction to a maximum fine of £5,000.
---
Donations and funding
Wainfleet (and area) Flood Appeal
Thank you to everyone who has very kindly donated to the Wainfleet Flood Appeal. Funds are already being distributed to those affected.
We are also hugely grateful to everyone who has donated items for those affected by the floods. Unfortunately we don't have the capacity to deal with physical donations.
We would encourage all those who wish to donate to either redistribute their items to local charitable causes or donate directly to the Wainfleet Flood Appeal.
The official Wainfleet (and area) Flood Appeal Fund has been established by the Lincolnshire Community Foundation, a registered charity. If you wish to donate to the Fund, which will be used to support those affected by the flooding, you can do so here.
If you have been flooded and wish to apply for some funding, you can do so here.
Funding
The Lincolnshire Community Foundation and their partners have agreed to provide financial support to every household where water came over the threshold and into their homes, but not where it only came into their garden or garage. The amount of grant funding will be £500. This will help with immediate needs such as the cost of living in temporary accommodation, insurance excess or items to enable people to stay in their own home e.g. cost of running dehumidifiers.
Every effort will be made to contact those families and individuals affected but those who believe they are eligible to receive support are encouraged to come forward.
This first phase of support will be available up to and including 1 August 2019.
The process will be very straight forward, a short form setting out personal details and evidence of address is all that is required. This will help verify your request for support.
If you would like further details, or to have a chat, please contact Sue Fortune at the Lincolnshire Community Foundation on 01529 305825/07908208838 or email sue.lincolnshire@btconnect.com.
Sue Fortune from Lincolnshire Community Foundation, will be visiting Coronation Hall on the following dates to assist people with any enquiries they may have regarding grant funding:
25 July (10:00am to 2:00pm)
3 August (11:00am to 3:00pm)
---
Sand Bags
Total Aggregates have removed the clean sand from Wainfleet.
Once you have finished with your sandbags the agreed disposal location is at the rear of The Fire Station, Wainfleet - signage is in place. Sack barrows are available to borrow from Coronation Hall to help remove sandbags.
If your sandbags have been contaminated by flood water, do not remove the sand - please just leave the sandbags in pile at the rear of the fire station.
If the sandbags are clean, please remove the sand from the bags and place the empty sandbags in the skip provided.
Please wear protective gloves when removing the sandbags. If you are unable to take your sandbags to the collection point, please visit the Coronation Hall where the team can arrange support where we can.
Please do not keep your sandbags if they have come into contact with flood water.
---
Insurance
What's the difference between a 'Loss Adjustor' and 'Loss Assessor'?
A Loss Adjustor is someone who is employed by an insurance company to decide how much money should be paid to a person making a claim.
A Loss Assessor is someone appointed by a policyholder to manage a claim on their behalf.
Advice from the Association of British Insurers
Here are two documents that provide advice about flooding resilience and on working through the insurance system after a flood.

ABI - Repair after a Flood [1.9MB]

ABI - Responding to Major Floods [2.98MB]
---
Message from Anglian Water
For those customers affected by the flooding in Wainfleet who are unable to return to their homes, we have committed to reduce their water bills for six months.
For those customers who were evacuated but have since returned to their properties, their accounts will be on hold until 1st August 2019 to help them through this stressful time.
For further information customers can contact the Anglian Water Customer Contact Centre on: 03457 919 155
---
Council Tax
If your property has suffered flooding and is uninhabitable, we'd ask you to please make contact with us at the earliest opportunity in regard to Council Tax.
Please call us on 01507 601111.
---
Message from Lincolnshire Partnership NHS Foundation Trust
We appreciate that you have been through a difficult time and may be feeling overwhelmed, stressed or worried. If you think you need help, you can:
Contact your GP who will assess your needs and refer you to relevant services
Self-refer online via steps2change talking therapies team for common mental health problems such as depression and anxiety
Telephone 0303 123 4000 (LPFT Single Point of Access) or
Email lincs.spa@nhs.net
Please find further information on LPFT's website www.lpft.nhs.uk/our-services.
---
Message from Public Health England
As you return to your property, our advice is not to use petrol or diesel generators indoors. The exhaust gases contain carbon monoxide, which can kill.
You should avoid contact with floodwater and take care if you must go into flood water by following our advice about how to clean up your home safely.
If you develop symptoms of diarrhoea and vomiting or respiratory illness, you should call 111 in the first instance.
---
Helpful links:
Public Health England and Environment Agency Flooding Advice
For the latest news and advice, please check our Facebook and Twitter and Lincolnshire Police.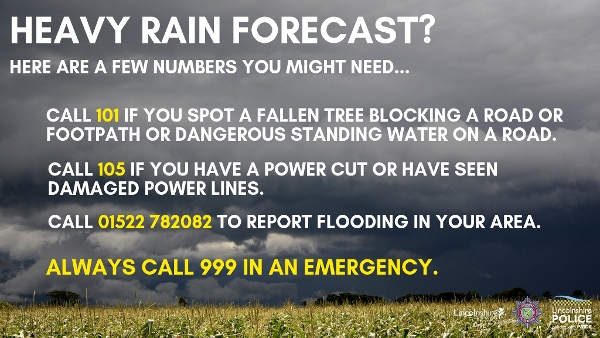 We have put together some details of support and advice that you might find useful following the recent flooding. We realise this is a difficult time for businesses and we want to ensure you have access to the support you need.
We are keen to keep those people affected by flooding up to date with regard to the advice and support available to them.