Petroleum Wax on Beaches
Over recent weeks there have been a number of incidents where deposits of a substance we now know to be Petroleum Wax have washed up on beaches on the East Lincolnshire Coast.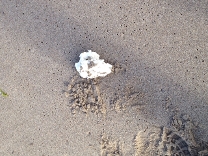 If you're heading to the beach please look out for deposits of Petroleum Wax. Members of the public should not touch or attempt to remove the substance. If you spot any, please report it to us on 01507 601111. If you come into contact with the substance, wash it off with soap or shower gel and wash your clothes.
Dogs should be kept on their leads and away from any deposits of the wax. If you believe your dog has been in contact with the substance and are concerned about their health, please contact your vet as soon as possible.