Works set to start on Rockery Gardens, Skegness, regeneration project
June 11, 2019
Works on a £72,000 regeneration project at the Rockery Gardens, Skegness, will commence next Tuesday (18th June).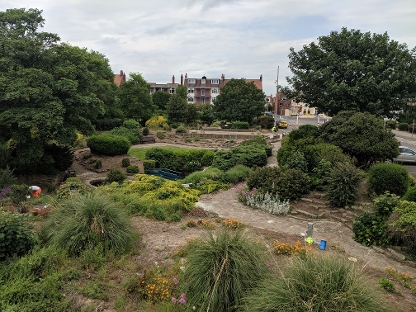 In January this year, it was announced that we had secured £50,000 from the Government's Coastal Revival Fund and would begin an improvement programme aimed at reinstating historical features whilst sympathetically modernising the area to ensure the Gardens' long-term future.
We will be providing the remainder of the funding for the works, which will include: footpath resurfacing; reinstatement of an oak framed weather shelter; a replacement footbridge over the existing pond; lighting improvements; and an enhanced planting scheme. Improvements to the CCTV provision in the area have already been completed.
Portfolio Holder for Coastal Economy, Councillor Steve Kirk, said: "This project is really exciting. It's been clear for some time that the area was in need of investment, so it's great to see the works about to start and I'm looking forward to what the Gardens will look like once it's finished.
"Rockery Gardens is the starting point for some great projects that will be taking place in Skegness over the coming months. Our partners Magna Vitae will soon be starting work on Altitude 44, the new high wires attraction; and works are being prepared for a post season improvement programme to Tower Esplanade, which will see a total of £450,000 invested to regenerate the area - we've already seen the impact that repainting our bins and railings has had and we've received some fantastic feedback about it".