District Council renews commitment as a Disability Confident Employer
February 12, 2020
East Lindsey District Council have renewed their commitment as a Disability Confident Employer through the Department for Work and Pensions accreditation scheme, to ensure people with health conditions and disabilities are treated equally at work.
Employers are assessed under two themes to achieve Level 2 status; getting the right people for their business and keeping and developing people. Being Disability Confident helps employers recruit and retain great people by drawing from the widest possible pool of talent, securing high quality staff who are skilled, loyal and hardworking and improve employee morale and commitment.
The District Council follow inclusive recruitment practices to ensure job applicants and existing employees receive fair and equal opportunities in the workplace with support to be able to fulfil their potential. Commitment to the Disability Confident scheme demonstrates that the Council aims to treat everybody fairly and are committed to equality in the workplace.
7.6 million working age people in the UK have a disability and it is important as an employer, that people with long term health conditions have the opportunities to develop their talents and realise their aspirations.
Leader of the Council, Councillor Craig Leyland, said: "I'm delighted that we've secured this accreditation. Not only does this ensure that we have the ability to recruit from the widest possible array of talent, but as a Disability Confident Employer we are helping to change attitudes for the better in our organisation, networks and communities."
Find out more about Disability Confident at www.disabilityconfident.campaign.gov.uk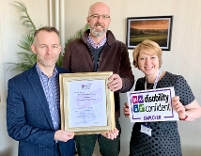 Photo: [L to R] Rob Barlow (Chief Executive), Councillor Craig Leyland (Leader of the Council), Roxanne Warrick (Communities)