Shop Local, Stay Safe, Be Kind, visit East Lindsey
September 21, 2020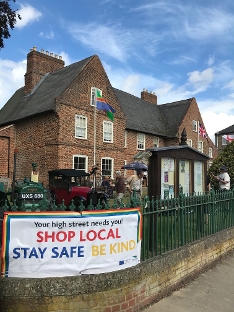 A new initiative, designed to promote and champion our town centres as safe places to shop and visit, launches this month. Shop Local, Stay Safe, Be Kind aims to encourage residents and visitors alike to safely rediscover the district's market towns.
The campaign seeks to raise awareness of our district's local shops, stimulate support for each town's high street and make finding information on businesses new Covid-19 safety measures easy and simple to do.
We have already introduced the 'Shop Local, Stay Safe, Be Kind' message in several towns, installing pavement graphics and signage, and the message will now be rolled out across the District. Shoppers should also look out for the messages in shop front windows and an upcoming leaflet which will be available from businesses and community organisations.
Louth, Horncastle, Alford and Spilsby will also benefit from their own dedicated social media pages. The Love Louth, Love Spilsby, Love Alford and Love Horncastle accounts will bring residents and visitors news on events, inspiration for shopping, special offers and guidance on staying safe. The accounts can be found on Facebook and Instagram; key information relating to the campaign will also be hosted on the Love Lincolnshire Wolds website - www.lovelincolnshirewolds.com
Councillor Adam Grist, Portfolio Holder for Market Towns and Rural Economy, said: "Our independent businesses and thriving high streets are the life blood of our market towns. Many of our businesses have gone to extraordinary lengths to continue trading during the Covid-19 pandemic. We recognise their dedication, and now want to help raise awareness our town centres are open for business and safe to visit. Working with our businesses to promote the way in which they've adapted their trading practices to be COVID-19 secure and push the message to Shop Local, Stay Safe and Be Kind, we can help visitors and residents safely return to our towns with confidence."
If businesses would like more information on how to get involved they can contact, Samantha Phillips on Samantha.Phillips@e-lindsey.gov.uk, or make get in touch through the social media pages.
The Shop Local, Stay Safe, Be Kind project is funded by the Government's Reopening High Streets Safely Fund which is enabling councils across England to support the safe reopening of high streets and other commercial areas. Funding will allow local authorities in England to put in place additional measures to establish a safe trading environment for businesses and customers, particularly in high streets, through measures that extend to the end of March 2021.