Spilsby, Horncastle and Louth Markets ready to re-open from Monday
April 8, 2021
Our markets in Spilsby, Horncastle and Louth are looking forward to welcoming all traders back from Monday 12th April.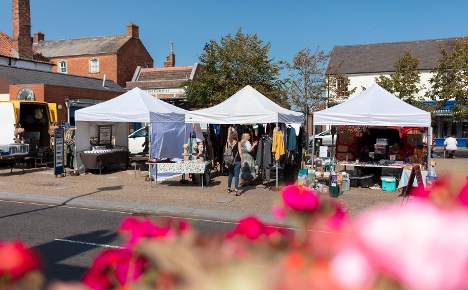 Following the Government announcement on Monday 5 April to confirm that all retail can re-open on Monday 12 April, we are pleased to say that Spilsby, Horncastle and Louth markets will re-open fully with all traders invited back to their weekly pitches from Monday, dependant on market day in each town.
Our markets have a number of stalls offering a diverse and attractive range of goods, services and fresh local produce. There is something for everyone - including fruit and veg, fresh fish, flowers and plants, clothing, fabrics, crafts and gifts - there's so much to see. You will also have the opportunity to take a seat and let local cafes serve you delicious refreshments at their seating areas on the markets. Our markets are as follows:
Spilsby Market is held in Market Place Car Park and Buttercross Car Park, Spilsby, PE23 5JT every Monday from 9am to 4pm, excluding Bank Holidays. Please note the auction will be returning later in the year.
Horncastle Market is held in Market Place, Horncastle, LN9 5HB every Thursday and Saturday 9am to 4pm with every second Thursday of the month being the Farmers' Market.
Louth Market is held at Cornmarket, Louth, LN11 9PD on Wednesdays, Fridays and Saturdays 9am to 4pm with a Farmers' Market on the fourth Wednesday of each month and the Food Friday market on the second Friday of each month.
Other markets in East Lindsey run by town councils can be found at www.e-lindsey.gov.uk/MarketDays
When visiting any of our markets please remember HANDS - FACE - SPACE and adhere to any directions given by the traders at their stalls.
Anyone looking to trade on any of the above mentioned markets should email markets@e-lindsey.gov.uk or visit www.e-lindsey.gov.uk/markets for more information.