Vital and Viable roadshows coming to East Lindsey market towns this month
September 13, 2021
We're bringing a series of roadshows to market towns across the district to promote our Vital and Viable programme.
Launched in late 2019, the Vital and Viable programme has seen us work with local communities and partners as we look to preserve and enhance the appeal of East Lindsey's market towns as places to live, work, and visit.
In late 2020, we launched Vital and Viable Action Plans for Alford, Horncastle, Louth, and Spilsby, which brought together the feedback received across a number of engagement sessions held in each town and identified the projects that local stakeholders wanted to see brought forward.
Good progress has been made towards achieving a number of the projects set out in each plan and in bringing forward support from local communities for the programme; some of the achievements in each town so far include:
In Louth, a range of public realm improvements have been made including works to the bus station and painting of bollards throughout the town, with further works planned to improve Engine Gate. We have also supported partners in the town to develop the temporary pedestrianisation of the Cornmarket and the delivery of the Zero Degrees Festival.
In Horncastle, we have worked with local volunteers to launch LoveHorncastle.com, a new digital platform to showcase the town as a place to visit. Horncastle has also been chosen to receive support through the Government's High Street Task Force programme which will help to shape a vision and strategy for the town. As well as getting the bollards in the town centre repainted, we've also worked with BT to ensure that the town's phone boxes are repainted too.
In Spilsby, the town's high street businesses have received support through the pilot Healthy You, Healthy Business programme, which has provided them with support to grow as they've emerged from the impacts of the pandemic. Like Louth and Horncastle, the town has also benefitted from bollard repainting. The Spilsby Sessions House has also been included in our Levelling Up Fund bid, which if successful would bring the building back into use as a theatre.
In Alford, businesses have also benefitted from support through the Healthy You, Healthy Business pilot programme. Alford Manor House and Alford Windmill have also been included in the Levelling Up Fund bid. If successful, the Manor House would be supported with their existing National Lottery Heritage Funding bid for the creation of a new millwright visitor experience and extending its events offer; the Windmill would be brought back to working order and be supported with the creation of a visitor café/shop and holiday accommodation. We gave also given support to Alford Town Promotions and have assisted with the Alford Craft Market extension.
We have also delivered a number of initiatives across all the towns, including: the Shop Local, Stay Safe, Be Kind campaign which welcomed shoppers back as businesses began to reopen from national lockdown in Summer 2020, this was part of a wider programme of support we introduced using the Government's Reopening the High Street Safely Fund; working with Different Light Collective to deliver Hope and Light, a series of light shows in each of the market towns which showcased art from the community over the Christmas period; and, more recently, rolling out the Government's Welcome Back funding with support from partners to ensure communities across the district are ready to welcome back visitors as the recovery from the pandemic continues.
The upcoming roadshows, which will take place in the four initial market towns and Wainfleet which was added to the programme earlier in 2021, will be a chance for members of the public to learn more about all the work we and our partners have done through the programme so far and provide an opportunity for them to share their thoughts on what we should be prioritising as part of the next phase of the programme.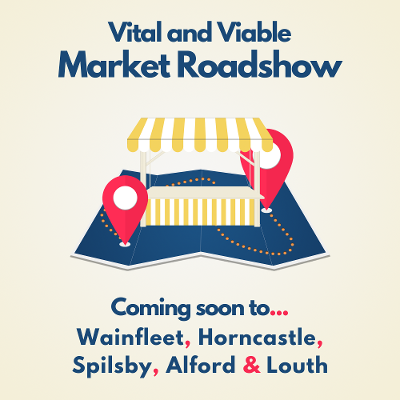 The dates for the Vital and Viable market roadshows are:
Wainfleet, 17th September 2021
Horncastle, 18th September 2021
Spilsby, 20th September 2021
Alford, 24th September 2021
Louth, 25th September 2021
A new survey will be made available at each market day for attendees to share their thoughts on what their town does well and where improvements could be made, as we look to ensure that our priorities for each town reflects what the local community wants to see. The survey will also be made available online from 15th September for those unable to attend in person (bit.ly/VandVsurvey).
Councillor Adam Grist, Portfolio Holder for Market Towns and Rural Economy, said: "We're really pleased with the progress that we've made with the Vital and Viable programme so far, we've had great support from local communities and have already been able to deliver a number of projects across each town. Whilst the past 18 months have been difficult, funding made available by government to aid recovery from the pandemic has allowed us to support partners in delivering some immediate local priorities in each of our towns. Now as we look to take this next step with the Vital and Viable programme, we want to ensure that we're working towards what each community wants to see in their town. I'd encourage everyone who can to pop along to their local roadshow session to meet the team and some of our partners, learn more about the programme, and let us know what they want for their town, and if you're not able to make the sessions in person, please do complete the survey when it's available online."