Council to discuss future of Sutton on Sea colonnade with local community
September 10, 2018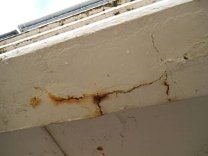 LATER this year East Lindsey District Council will discuss the future of a colonnade in Pleasure Gardens, Sutton on Sea, with the local community after a structural survey revealed the existing colonnade has significant structural issues.
In early April the Council explained that it had concerns about the existing colonnade and as a result an area was fenced off whilst a detailed structural survey was undertaken by specialists in this area of work.
The survey findings for all three sections of the colonnade have now been received. The survey report, which can be viewed online, makes clear that there are serious structural defects and that the Council must take action to resolve the issues.
Portfolio Holder for Coastal Economy, Councillor Steve Kirk, said: "Put simply, the issues relate to the age and design of the colonnade structure, which have resulted in the progressive weakening of the iron reinforcing beams within the concrete and the concrete itself. We understand from the report that this type of issue is fairly typical on structures built this way during the 1950/60s.
"Regrettably, in order for us to resolve the issues we will need to undertake extensive works to the structure, which may include the removal of the full colonnade. A project plan for this project is currently being developed. As part of this we are considering options for redevelopment of the colonnade area and what this might cost. Once we have more information on this we will talk to the local community about the best way forward in terms of redevelopment before making a decision on how to progress. "
The structure is not part of the sea defence.
In the short term the Council will need to do two things:
- Keep the area under the colonnade fenced off in case further pieces of concrete should fall. The Council has replaced the heras fencing with a painted wooden hoarding. The Council has installed support poles under the colonnade and will inspect the colonnade structure at regular intervals.
- Beach huts 16 to 29, which are owned by the Council and closed will be removed. This will remove unnecessary weight from the structure. This will be done later this year.
The Council is entering into discussions with the Residents' Association's representatives who lease Huts 2 to 15 from the Council and Private Hut owners who have an annual licence for their plot (Huts 30 to 39), as these huts also sit on the colonnade and will need to be removed. The Council is keen to work with the private hut owners to support the relocation of their huts onto other available plots in Sutton on Sea.