Pages of the Sea: Danny Boyle
On 11 November 2018, communities will gather on beaches across the UK to say thank you and goodbye. Film-maker Danny Boyle invites you to join him in marking 100 years since Armistice and the end of the First World War. Pages of the Sea is a unique moment to say goodbye, together, to the millions of men and women who left their shores during the war, many never to return.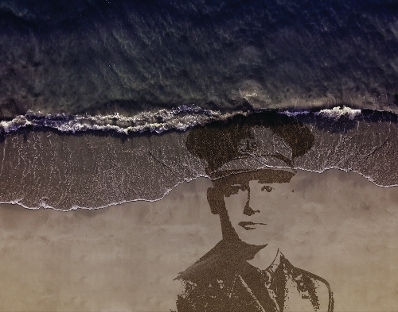 You're invited to beaches across the UK, including Sutton on Sea, where, over the course of several hours, a portrait of an individual from the First World War will emerge from the sand and then, as the tide rises, watch as it's washed away as we take a moment to say a collective goodbye.
Carol Ann Duffy has written a poem especially for the moment, to be read by individuals, families and communities on the day.
Portfolio Holder for Coastal Economy at East Lindsey District Council, Councillor Steve Kirk, said: "On November 11, as the nation remembers those who have so bravely fought for our country, the whole community is invited to Sutton on Sea's main beach to say goodbye and thank you as the resort hosts Pages of the Sea, which marks 100 years since the end of World War 1. Sutton on Sea is one of a number of seaside resorts chosen by Danny Boyle to take part in the commemoration."
Please note: Due to Sutton on Sea beach having no high points the portrait of the soldier may not be visible as a whole, however you will still be able to see the giant portrait taking shape in the sand with the aim to be completed at 2pm.
More information about Pages of the Sea in Sutton on Sea will be posted as the detail is confirmed.
We are working in partnership with Magna Vitae Trust for Leisure and Culture to deliver the Sutton on Sea event.
You can also take part online at PagesoftheSea.org.uk. Discover other individuals who left their shores. See their faces and find out who they were. Those from your community, those who shared your name. You can even add your own image of someone from the First World War from your own family or community and say a personal goodbye.
VOLUNTEER AT SUTTON ON SEA'S PAGES OF THE SEA
We need 5 more volunteers from 10am-4pm for our event at Sutton on Sea.
Supervise members of the public creating their own platoons of wartime heroes with stencils.
You will need to be willing to work in all weather conditions.
To sign up complete the

volunteer registration form [243.92KB] and return to matthew.archer@mvtlc.org
For more information contact matthew.archer@mvtlc.org
#PagesoftheSea