L J Fairburn & Son Limited
"As a business that strives to innovate and improve our functioning and products, we continuously look for opportunities to celebrate and assist in the innovations of others."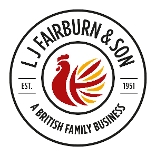 Fairburn's started farming in Alford in 1951 with just 150 chickens which Grandfather, Leslie James Fairburn bought for £150. Now one of the largest independent egg producers and packers in the UK the business has changed, but the family values haven't.
Daniel Fairburn, now the third generation of the family, with the support of wife Sarah Louise and sisters, Caroline and Sarah, are all part of the expansive team of more than 250 employees.
The business now has 80 units across 17 farms, 5 million laying and rearing hens, mills over 80 000 tonnes of feed each year and has an expanding fleet of 16 lorries to distribute feed, collect eggs and deliver finished products into their 7 retail partners.
Proud to be producing all types of eggs for leading UK supermarkets, Fairburn's now produce and pack over 17 million eggs a week. With all Directors having young families, sustainability of L J Fairburn & Son Limited, as well as the British egg industry, is the number one focus for the Fairburn family.